WELCOME TO FOREVER BULGARIA!
General information
Forever Living Products Bulgaria
Office Address:
41B Burel St., 1408 Sofia
Open:
09.00 am – 06.00 pm (Mon – Fri)
Product Center Address:
34 Petko Karavelov Blvd., 1408 Sofia (~ 30 m east of the office)
Open:
10.00 am – 07.00 pm (Mon)
09.30 am – 07.00 pm (Tue – Fri)
Telephone:
+359 2 954 95 80
Fax:
+359 2 954 96 68
Email:
flpb@flp.bg
Websites:
www.foreverliving.com (Bulgarian and English content)
www.flp.bg (local website, Bulgarian and Macedonian content)
FREQUENTLY ASKED QUESTIONS
Can I sponsor new team members or order products in Bulgaria?
To be able to purchase products and sponsor new prospects in Bulgaria, you will have to contact the Forever office in your own Home Country and communicate your wish to be internationally sponsored into Bulgaria. If you have already done so, you should have already received an automated email welcoming you to our country.
I have a prospect in Bulgaria who wishes to join my team.
What do I need to do?
Your Bulgarian prospects can join your team using our
Online Join
procedure. Please give them your FBO ID number, so that they can choose you as their sponsor. Another option would be to download our
Forever Business Owner Application Form
. This has to be printed out, filled in and signed at the bottom. Again your prospects will need your full FBO ID# to be able to fill it out in the form. Then the FBO Application can be scanned and emailed to us, faxed or brought to our office. Once we receive the form and verify that it has been filled in correctly and completely, the new member receives their ID number with which they can place their first order. There are no special requirements for a new prospect to join in Bulgaria – there is no sign-up fee and the first product purchase can either be one of our Start Packs – the
Start Your Journey Pack
or the
Start Your Personal Use Pack
, or a random selection of products for at least
98.00 BGN (€50.00)
. The Start Packs are
1.5cc-worth packs
awarding the sponsor with 2.000 case credits and the new FBO with all the benefits of a 2cc purchase – instant wholesale qualification and move-up to the Assistant Supervisor level with a 30% personal discount. When your prospect joins with their first order, they will receive a welcome email with their username (FBO ID) and password with which they can sign in to their
FBO web account
where they will be able to place their next orders. The welcome email also contains basic guidelines what they can do next to start enjoying the benefits their new Forever business offers, where to find trainings, resources and answers to most of their questions.
I would like to set up an online retail shop in Bulgaria and send referral links to my customers. Can I do that?
At present, Bulgaria does not have an active online retail shop to which you can refer your customers. We are actively working on creating one but until it launches, you can have your Bulgarian customers join as Preferred Customers to be able to order products online. Please see above for details how to help them sign up as FPCs.
Where can I get a Product Price List for my prospects?
The Bulgarian Product Price List can be downloaded from
HERE
. It includes retail, Preferred Customer (FPC) and all the Marketing Plan level prices (in the following order - Retail, FPC, A/Sup, Sup, A/Mgr, Mgr). The prices are in Bulgarian currency.
Can I take a look at your Product Catalogue?
What is the minimum order amount in Bulgaria?
The minimum order amount for first and subsequent orders is 88.00 BGN (€45.00) at FPC Pricing.
What meetings and trainings do you have?
Your Bulgarian prospects and team members will be able to see the dates for our upcoming live or online events on our
FACEBOOK page
. They can also download the free Forever Bulgaria app which will keep them up-to-date with everything happening at Forever in our country.
Do you have online trainings that I can send to my prospects?
Do you have the First Steps to Manager workbook in Bulgarian?
Yes, you can
leaf through it online
, or order the hard copy (item # 1113, unit price 3.00 BGN). You can browse through the rest of our literature items
HERE
(the page is in Bulgarian only) or in the FBO online shop at
foreverliving.com
(please see below how to sign in).
I am in Bulgaria on vacation and would like to order products while I am here. How can I do that?
Orders can be placed online, by phone, fax, email, or in person. For online orders, please sign in to your FBO site at
foreverliving.com
with your ID and password. Then click on the name of your country at the top of your screen, a drop-down menu will unfold to list all the countries you are internationally sponsored into. Now look for EUROPE and choose BULGARIA to switch to the local content for our area. After the Bulgarian FBO site loads, click on SHOP NOW to place your order.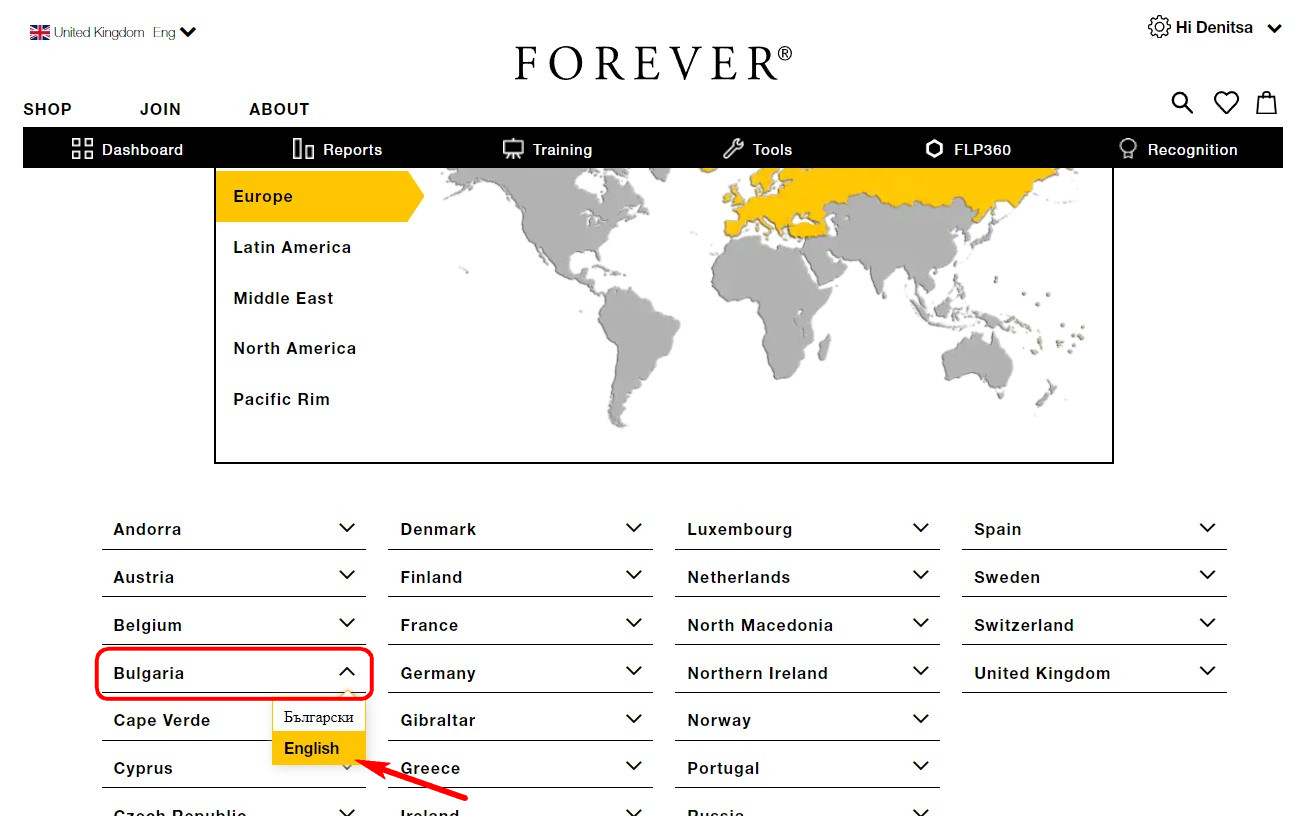 How do I pay for my order?
We accept cash and Debit/Credit cards if you come to our Product Center. Online orders can be paid by cash on delivery, Visa/MasterCard or a bank transfer. Orders placed by phone are paid by cash on delivery or a bank transfer.
When will I receive my order and what are the shipping charges?
Orders are dispatched on the next business day after receipt and shipped in one business day. The shipping charges are as follows:
6.00 BGN
for a drop-ship delivery in Sofia
7.00 BGN
for a door-to-door delivery in Sofia
8.00 BGN
for a drop-ship delivery in Bulgaria
9.00 BGN
for a door-to-door delivery in Bulgaria
9.00 BGN
for a door-to-door delivery in Bulgaria via Evropat (1-3 business days depending on the
delivery zone
)
How will I receive my bonuses from Bulgaria?
By wire transfer to local bank accounts regardless of bonus amount and by wire transfer to foreign bank accounts after bonuses accrue to 100 EUR or more. Please contact Maya Mladenova at
mmladenova@flp.bg
to send your bank details and find out whether you will need to send us an invoice for your bonus.